Pool
Pool Information

Hours

Tuesday-Sunday

Starting Tuesday, Aug 9

Tuesday-Friday

Saturday-Sunday

Last day the pool is open is Monday, Sep 4

11:00 am - 8:00 pm

4:00 pm - 8:00 pm

11:00 am - 8:00 pm

Guests of Members Pricing
Adults
$10.00
Ages 5 & Under
FREE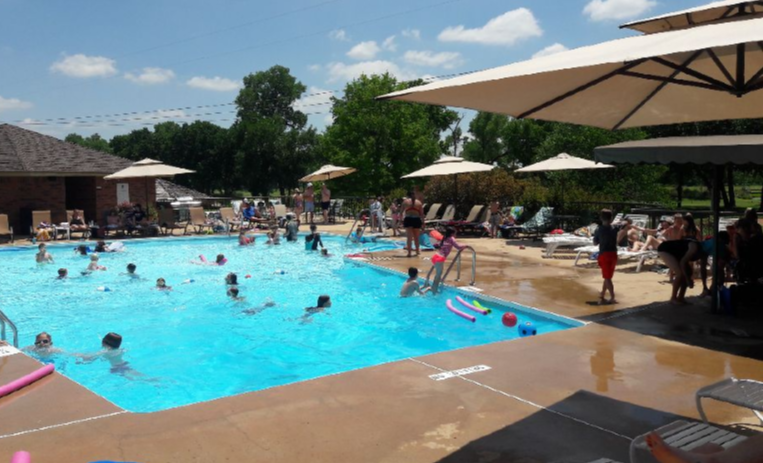 The Trails swimming pool is a designated "safe zone" overseen by Certified Lifeguards from the Cleveland County YMCA. Anytime the gates are unlocked a lifeguard is on duty.
The swimming pool is open Memorial Day Weekend through Labor Day Weekend, Tuesday through Sunday. Normal hours of operation are 11:00am to 8:00 pm. Members are allowed to bring invited guests. Members must sign in their family and all guests upon entry in the pool area. Pool guest fees are for everyone over the age of 6. Age 5 & under are free.
Special pricing for organized parties (birthday parties, family events, little league celebrations) may be arranged through the Club, by calling 405-364-3790. With the exception of birthday cake, all food and beverage must be purchased from the Club. No outside food or beverages are allowed.
Pool Dress Code
Proper swim attire (swim suits) must be worn in the Pool Facility.
"Cut-off" shorts are not allowed in the Pool Facility.
Bare feet and wet bathing suits are restricted to Pool Facility only.
SWIM LESSONS
Swim Lessons are available from our certified YMCA Lifeguards.
ymca protocol
If the heat index reaches 105 degrees or more, the YMCA lifeguards can close the pool for 10 minutes at the top of each hour. This allows the lifeguards a proper break from the heat. Also, if the heat index is 110 degrees or over, the pool will not open until the temp is lower than 110 heat index.